Slime Eye controls this area, where it summons ally Tentacle Monsters randomly to serve its Queen as it sees fit. Species with symbiotic relationship could be summoned together.
Location
It is located beside the house in red wood.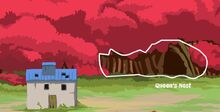 Features
One must have a matured Slime Eye to unlock this area.
During pregnancy, Lilith cannot enter the Queen's Nest.
It consumes 1-3 turns depending on the number of Tentacle Monsters summoned.
Species with Symbiotic Relationship