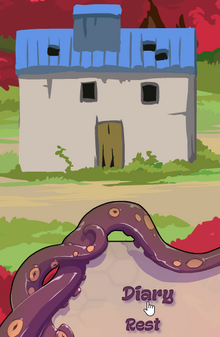 How do I save the game?
1) Go to the small house in the Secret Garden
2) Select Lilith's Diary.
3) Select the Save tab and click to create a save file.
a. Select "Allow" if you get a Flash Player popup.
b. Set the game to run as admin if needed.
c. Chrome might require multiple clicks to make a save.
How do I reuse my save file?
For Download versions (exe/swf)
1) To reuse your save, you must rename your newly downloaded file same as the one you saved your game.
2) As well as putting it into the same directory of your previous file (replacing old file).
Be aware that only save from v4 and up is compatible with newer versions.
Which species has bonding events?
In v4.04: Dubois, Dolphy, Wolfong, Cirrus, Myrimidon, Harska, Beringarius, Butanga, Gritario, Nodder, Inker, Oturo, Bopbo, Weta, Slime Eye, Maratus, Scorpse, Skitz, Scrapper, Moth, Hopping Claw, Inuax, Red Lion, Hanging Fruit, Bull Slug, Blood Star, Sling Mantis and Walking Leaves.
What do I do in the game?
You can start by achieving some tasks to learn some core skillsets through visiting Instinct (icon at top right corner). After which, there is no forced path on how to play the game.
How to get the Queen's Nest?
Get a Slime Eye to Lv14, it is designed as its specialty(benefit).
Community content is available under
CC-BY-SA
unless otherwise noted.