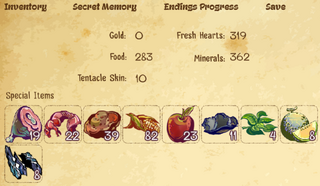 Lilith's inventory contain all the useful item found during campaign. Both the basic ones needed for surival (like Food, Fresh Hearts, Gold, Minerals and Tentacle Skins) and special items (like Egg) that can provide some kind of bonus with Tentacles.
Gold
unknown
Tentacle Skins
unknown
Food
unknown
Fresh Hearts
unknown
Minerals
unkonwn
Special Items
Special items can be used during Bonding to gain better results. The have many different effects and can also affect tentacles mood.
Obtaining special items
Special can be obtained from conquered territories once there is trained tentacle in charge of that territory.
Only assigned tentacle monster witch matching habitat for the territory can obtain special item.
Available special items
The followings are special items obtainable ingame as of v4.05
| | Item name | Rarity | Description |
| --- | --- | --- | --- |
| 1 | Wonder Tea Leaves | Mighty Rare | These almost magical like tea leaves help restore energy anytime of the day. Restore 2 turns when consumed. |
| 2 | Red Eel | Rare | This sea creature is believed to increase chances of birthing more aggressive offspring when consumed during pregnancy. |
| 3 | Blue Lobster | Rare | This sea creature is believed to increase chances of birthing more strengthen offspring when consumed during pregnancy. |
| 4 | Yellowtail | Rare | This sea creature is believed to increase chances of birthing more supportive offspring when consumed during pregnancy. |
| 5 | Fresh Heart | Common | This food seem to be the Tentacles species' favourite treat. |
| 6 | Oyster | Uncommon | This food is known for increasing passion. Feed this to a love one before copulation can lead to mood change and gain 1 RP. |
| 7 | Salmon | Uncommon | This food is known for its healing power. Feed this to a love one can help restore 30 stamina. |
| 8 | Banana | Common | This fruit is popular any creatures. Consuming it to gain 25 stamina and +15 booast in Endurance temporarily. |
| 9 | Egg | Uncommon | Not only is it delicious, this food is filled with nutrients. This treat is enjoyable no matter the mood, can gain 1 RP and 15 stamina. |
| 10 | Honey | Rare | This delicacy is not easy to be obtained, thus it is much sought after. |
| 11 | White Mushroom | Common | This food is highly sought after by the common folks. |
| 12 | Spotty Mushroom | Mighty Rare | As its appearance suggested, this mushroom is poisonous. Any creature consuming it would do them no good. |
| 13 | Obsidian | Rare | This rare mineral can be used to create some tools. |
| 14 | Flint | Rare | This rare mineral can be used to create some tools. |
| 15 | Diamond | Unknown | This gem looks like a good material for creating some fine jewellery. |
| 16 | Potato | Common | This is the most abundant food around, due to its strong adaptative nature. |
| 17 | Corn | Common | This is one of the most popular food among the common folks. |
| 18 | Rabbit Meat | Uncommon | This seems to be a delicacy desired by the Tentacle Monsters. It can be used as an alternative of 5 fresh hearts. |
| 19 | Sea Urchins | Rare | Unknown. |
| 20 | Apple | Uncommon | This is the most common fruit among the common folks. |
| 21 | Boar Meat | Uncommon | This big meat can bring satisfaction to any creature. Feed this to a hungry one can gain 2 RP and 40 stamina, temporary -25 Traveling and +25 Stability. |
| 22 | Melon | Rare | This juicy fruit can solve any thirsty need. |
| 23 | Rabbit | Uncommon | This lovely creature can be great companion for the lonely ones. |
| 201 | Tent | Unknown | Tent - To take rest anywhere. |
| 301 | Green Thread | Unknown | Can be useful for crafting. |